Warmer days come earlier in Cornwall, so why not treat yourself to a getaway in May, perhaps over half-term or one of the spring bank holidays? We have more than enough ideas to keep you busy, from hidden gardens and maypole dancing to sea safaris, suntrap beaches and England's longest and fastest zip line.
Where else but Cornwall can you watch a Furry Dance or witness a Pee-Whip Ceremony? With a host of wildlife attractions, fields of bluebells, clifftop drama at the stunning Minack Theatre and one of the most scenic drives in the world, you just have to visit Cornwall in May!
1
Witness the Pee Whip Ceremony in St Ives
May Bank Holiday in St Ives has long been celebrated by a traditional festival known as "Pee Whip". The event starts by crowning the local May Day "royalty" in what is known as the pee-whip ceremony. There's a procession of costumed locals, led by the Mayor and Grand Bard, all wearing floral headdresses and carrying flower-decorated sticks known as May sticks.
The parade ends down at the harbour where you need to secure a good viewing point from a pub or cafe to watch the traditional maypole dancing (usually a bit of a tangle!), brass bands, choirs and street entertainment. Plan to dine at the outdoor fish barbecue, a great St Ives tradition. Best way to visit St Ives at any time is by train from St Erth or Penzance. It's a neat way to avoid the steep parking charges and hilly walk to retrieve your car!
2
See spectacular blooms at Enys Gardens
Well off the beaten path, Enys Gardens is a 30-acre botanical haven at St Gluvias. Penryn. Thought to be the oldest gardens in Cornwall, they only open on Sundays and Mondays in summer (April to September), and for nine days at the beginning of May to show off its fantastic annual display of bluebells in Parc Lye.
Paths meander through the site between a wonderful collection of specimen trees and long-abandoned buildings including a waterwheel. The restoration is currently a work-in-progress. and be one of the privileged few to enjoy this May show put on each year by Mother Nature.
3
Watch the Floral Dance in Helston!
To experience something you won't find anywhere else in the world, head to Helston, where the folks have been celebrating "Furry Day" (Floral Day) for centuries. Held on the nearest weekend to May 8th, this spring festival is all about the end of winter and fertility of spring. Shops, streets and houses are decorated with fresh flowers, bluebells, red campions and greenery ahead of the famous Flora Day.
The big event is local couples dressing in Victorian costume and dancing around the streets to the famous "Floral Dance", accompanied by the local brass band. You have to be a local resident to join in most of the dancing, but there are plenty more street activities, re-enactments, poetry readings, Maypole dancing, street food and events that you can participate in.
4
Find a sandy suntrap!
If you fancy a day at the beach, one of the local hidden gems is the National Trust owned Lantic Bay, situated between Polperro and Polruan. It's a 20-minute walk down a winding footpath from the car park, which means it remains uncrowded. Views from the clifftop are just stunning as you look down over the gorse to the white sandy cove and clear blue waters below.
The sheltered south-facing position makes it a glorious suntrap for sunbathing and paddling in May. It shelves quite steeply and currents make it unsuitable for swimming. However, there's fine white sand and shingle for walking, sandcastles and more. Bring your own picnic and blanket as it really is undeveloped!
5
Explore the Zennor to Sennen scenic drive
May is a great time to explore Cornwall's narrow lanes and coastline before the summer visitors arrive by the coach-load! Take a scenic drive around the coast from Zennor (near St Ives) to Land's End. It rivals some of the great drives of the world! Roll down the windows (or drop the hood if you're lucky enough to have a convertible) and you can complement the magnificent views from the clifftop with the smells and sounds of the sea.
Take a detour to the Nine Maidens Stone Circle and the mysterious Men-an-Tol standing stone. When you reach Sennen, look out for the famous Longships Lighthouse far out to sea.
6
See the Bluebells at Lanhydrock
The extensive National Trust owned estate at Lanhydrock is free to explore, although there is a charge for touring the magnificent house, church and terraced formal gardens. However, the wider estate is wonderful for couples, kids and dogs to roam, starting with the famous beech avenue, planted in the 17th century.
Near the car park, the woods are literally carpeted with bluebells in May while the pleasure gardens are a blaze of spring colour with well established azaleas, rhododendrons, magnolias and other flowering shrubs.
7
Go on safari!
Why not go on safari, heading out into the wild unknown keeping eyes peeled for native wildlife. Wavehunters offers exhilarating sea safaris from Padstow, exploring the stunning coast of North Cornwall and whatever lives beneath the waves. Dolphins, seals, native seabirds and even the occasional whales are likely to be spotted as you discover hidden coves and sea stacks.
Bring a picnic and a paddleboard and explore hidden caves. Your skipper will keep you entertained with local history, legends and interesting facts about native wildlife. These 2-hour sea safaris are ideal as a family charter.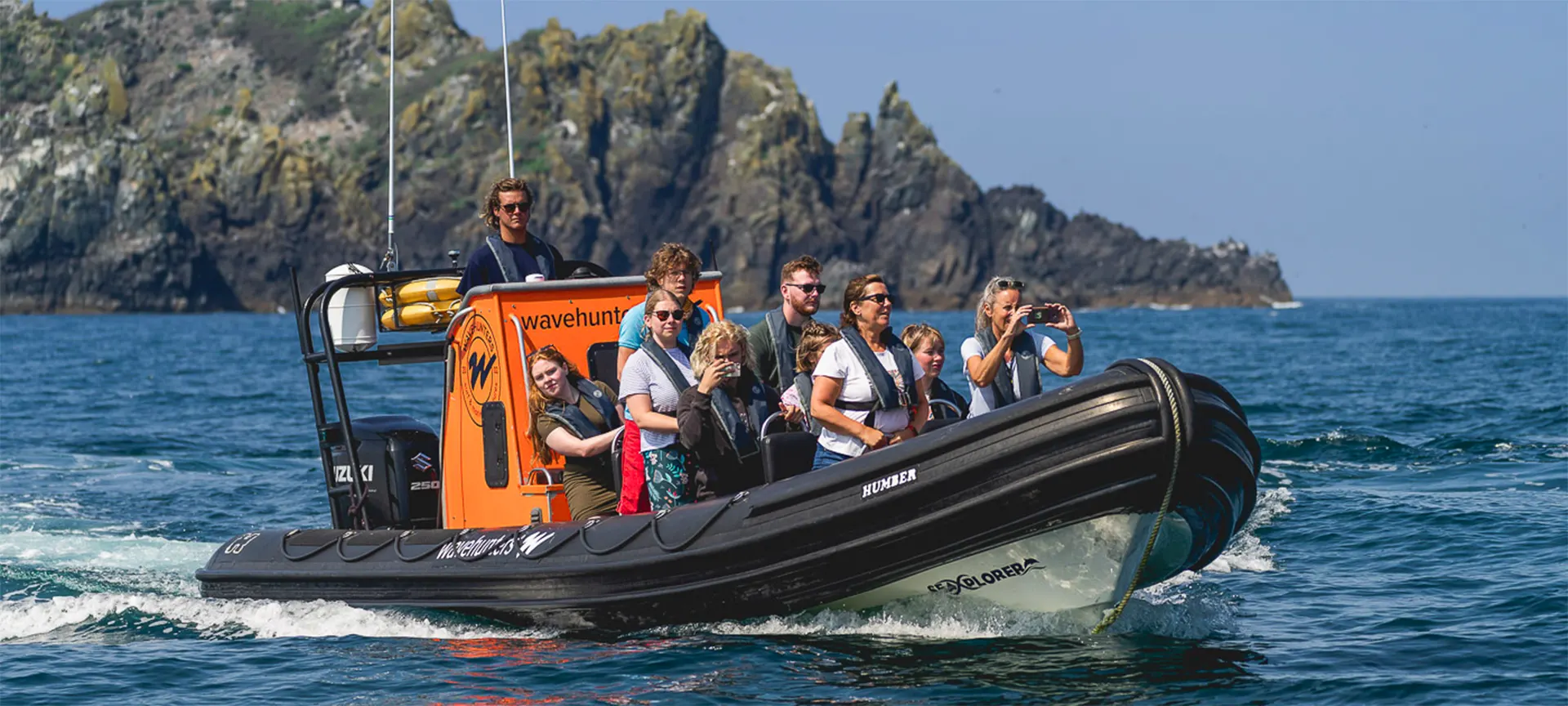 8
Visit Eden's indoor gardens and zip line
The Eden Project near St Austell is the ideal place to head for on a cool or showery day. The vast Rainforest Biome houses a lush tropical jungle and waterfall where you trek around the paths examining cotton, rubber, bamboo and rainforest plants. There's another conservatory with a drier climate producing vines, orange trees and an abundance of exotic flowers from South Africa.
You'll find some special family activities during school holidays and ever-changing exhibitions featuring the latest AR technology, usually with an eco theme. For the ultimate thrill, strap on your harness and ride England's longest and fastest zip wire over the site!
9
Visit the Monkey Sanctuary
If you've got "little monkeys in tow" why not visit the Monkey Sanctuary in St Martin, Looe? It reopens in spring to welcome visitors. Its mission since it opened in 1964 has always been to provide a sanctuary for around 40 monkeys that are neglected, or abandoned as unwanted pets. The woolly monkeys enjoy showing off in their large open air enclosures and special activities including being a "Keeper for a Day".
10
Clifftop drama!
Where better to enjoy a live performance than at the clifftop amphitheatre at Minack Theatre in Porthcurno. As the sun goes down over the bay, it provides a breathtaking backdrop that proves quite a distraction from the on-stage entertainment.
This outdoor theatre has been operating since 1932. From Easter through September, it puts on a programme of music and theatre in a unique clifftop setting that provides an unforgettable experience. Bring cushions – you'll be sitting on a tiered grass-topped stone wall. BTW, you can see the theatre and walk down to the beach in the daytime without having to buy a ticket!