Located on the north coast of Cornwall, the popular seaside resort of Newquay is 12 miles north of Truro, the county seat, and 20 miles west of Bodmin. It has a population of around 22,000, but this swells to over 100,000 in summer. Visitors flock down to Newquay to enjoy the beautiful beaches, scenic countryside, lively attractions and laid-back lifestyle that this fabulous county is famous for.
Newquay is undeniably the UK's surfing capital; after all it regularly hosts top surfing championships on world-famous Fistral Beach. Whether you're surfing or spectating, you can look forward to exciting events including the British Surfing Championships, the English National Surfing Championships, Boardmasters Festival, the floodlit Newquay Night Surf and the BUCS (British University and College Sport) Surf Championships, which incidentally is the largest surf competition in Europe. But even if you're more of a shallow-paddle sort of visitor, Newquay still has some amazing attractions to keep you busy without getting your hair wet.
There are no less than 11 beautiful surfing beaches and sandy coves around Newquay offering sunbathing, sandcastles, rock pooling, volleyball, swimming, bodyboarding, kite-surfing, sea kayaking and a host of other watersports we'll get to later. Clifftop walks along the ups-and-downs of the South West Coast Path provide stunning views, sea birds and the occasional sighting of Cornish dolphins.
Newquay town has the usual array of tawdry and tat along with some more upscale shops mingling with fish and chip shops, amusement arcades, takeaways, bars, restaurants and pubs. It goes without saying that there's a pretty lively nightlife in Newquay, as Cornwall goes.
By day, Newquay is buzzing with attractions including theme parks, gardens, animal attractions, a world-class aquarium, golf (and crazy golf), mackerel fishing charters, boat trips, orienteering and a whole lot more besides. Venture 20 miles or so from your holiday cottage and there are even more amazing places to visit.
We've a lot to get through, so let's get started!
Newquay: Getting there and getting around
The opening of Cornwall (NQY) Airport in 1972 really put Newquay on the map with direct flights from London taking just 75 minutes. Sited on the former RAF St Mawgan Airfield, it handles almost 500,000 passengers every year thanks to low-cost daily flights from London and further afield.
Currently Newquay Airport is mainly served by EasyJet, Eastern, British Airways and Loganair. UK routes including direct flights to/from London Gatwick, London Heathrow, Manchester, Edinburgh, Glasgow, Newcastle, Teeside and Aberdeen. International routes include Dublin and other European airports.
A taxi from the airport to your accommodation (about 5 miles) will cost around £20.
For a similar price to an air ticket, you can take the train to Newquay from London Paddington with First Great Western. Direct services take s about 5¼ hours. Newquay Railway Station conveniently located right on the seafront near Great Western Beach.
The cheapest option for getting to Newquay from "up the line" is by bus (7 to 8 hours from London) with National Express, changing at Bristol.
Having a car to explore southwest Cornwall can be a big advantage if you're staying a while. Car hire is available if you don't want to drive down. Getting to Cornwall by car is easy along the M5 / A30, but in summer the long queues can add hours to the usual journey time. Once in Newquay, parking can be difficult and expensive, so plan to park your car at your accommodation and get around on foot or public transport.
Newquay is fairly compact, so most visitors enjoy walking around Newquay town centre and there are plenty of beaches within easy reach of holiday apartments. There's a local bus service from the bus station on Manor Road if you fancy heading out to St Austell, Truro or Perranporth for the day.
The best option after dark is a taxi or Uber. Taxis are governed by the local authority. A yellow card displayed in the windscreen means the taxi can be flagged down in the street. Cabs with a red card cannot be hailed and must be pre-booked by phone. Best local taxi services are 123Taxis (01637 851234) or Newquay Taxis (01637 872424) which has vans for up to eight passengers.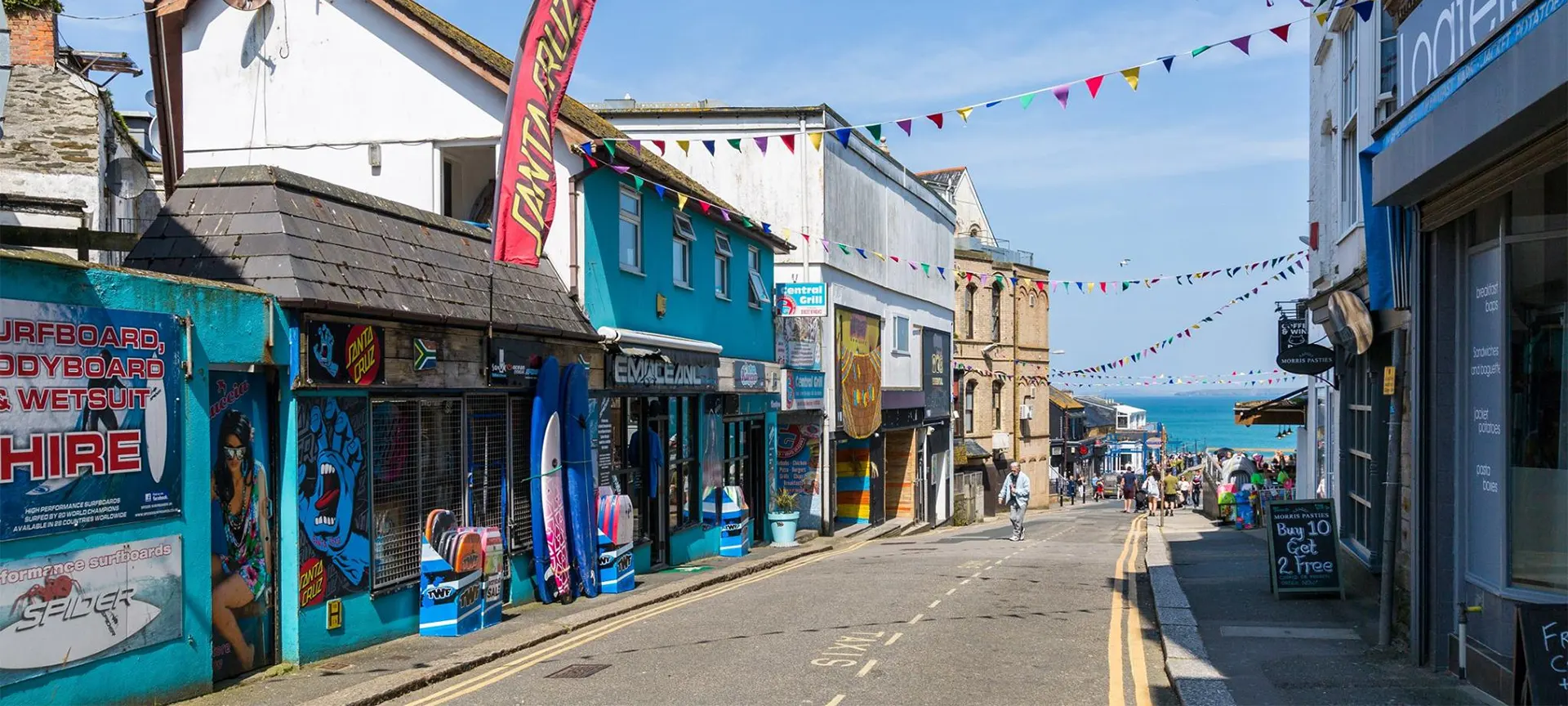 Best time to visit Newquay
The best time to visit Newquay depends on whether you want the best weather, the best prices, least crowds, or perhaps the best festivals and activities. Many families are restricted by school holidays, making Newquay very busy in July and August. The hottest month is July, with an average high of 20°C and low of 13.4°C. However, it is also the driest month with 11.4 rainy days on average, compared to 16.6 days of rain in November.
Winter breaks can be fun as Cornwall typically has mild temperatures and rarely has snow on the coast. Although the driest months are December through March, it can be windy.
If you want to enjoy a stay in Newquay with warm weather, less crowds and lower prices, May, June, September and early October are all good times to visit.
A little Newquay history
Cornwall is steeped in history with ancient barrows and archaeological remains dating back to Bronze Age settlements over 5,000 years ago. Although Crantock and Towan were listed in the Domesday Book (1086AD), it was not until the early 1600s that Newquay came into existence. Local burgesses decided to build a New Quay near Towan and eventually the name appeared on local charts and records as Newquay.
The harbour prospered with pilchard fishing and mineral exports from local mines. The arrival of the railway in 1836 brought expansion as lodgings and guest houses sprung up. The earliest hotel was the Great Western Hotel (1879) overlooking Great Western Beach and the equally imposing Grade II listed Headland Hotel (1900) on Fistral Beach.
The town continued to expand before and after the world wars with development creeping across Pentire Point and the Trenance Valley. This area along the Gannel Estuary was developed for recreation with walks, tennis courts, gardens and a bowling green.
During WW2, schoolchildren were evacuated from Holt, Norfolk to the relatively safe area of Newquay. The RAF commandeered hotels and guesthouses for troops who were completing military, gunnery and pilot training. The grand hotels were turned into convalescent hospitals for the Army, Navy and Air Force.
More recent development in Newquay includes an industrial estate, supermarkets and commercial warehouses. Land to the east of Newquay Beach belongs to the Duchy of Cornwall where a 30-year masterplan at Nansledan includes building 4,000 new homes, local offices, shops and a school in an award-winning sustainable development.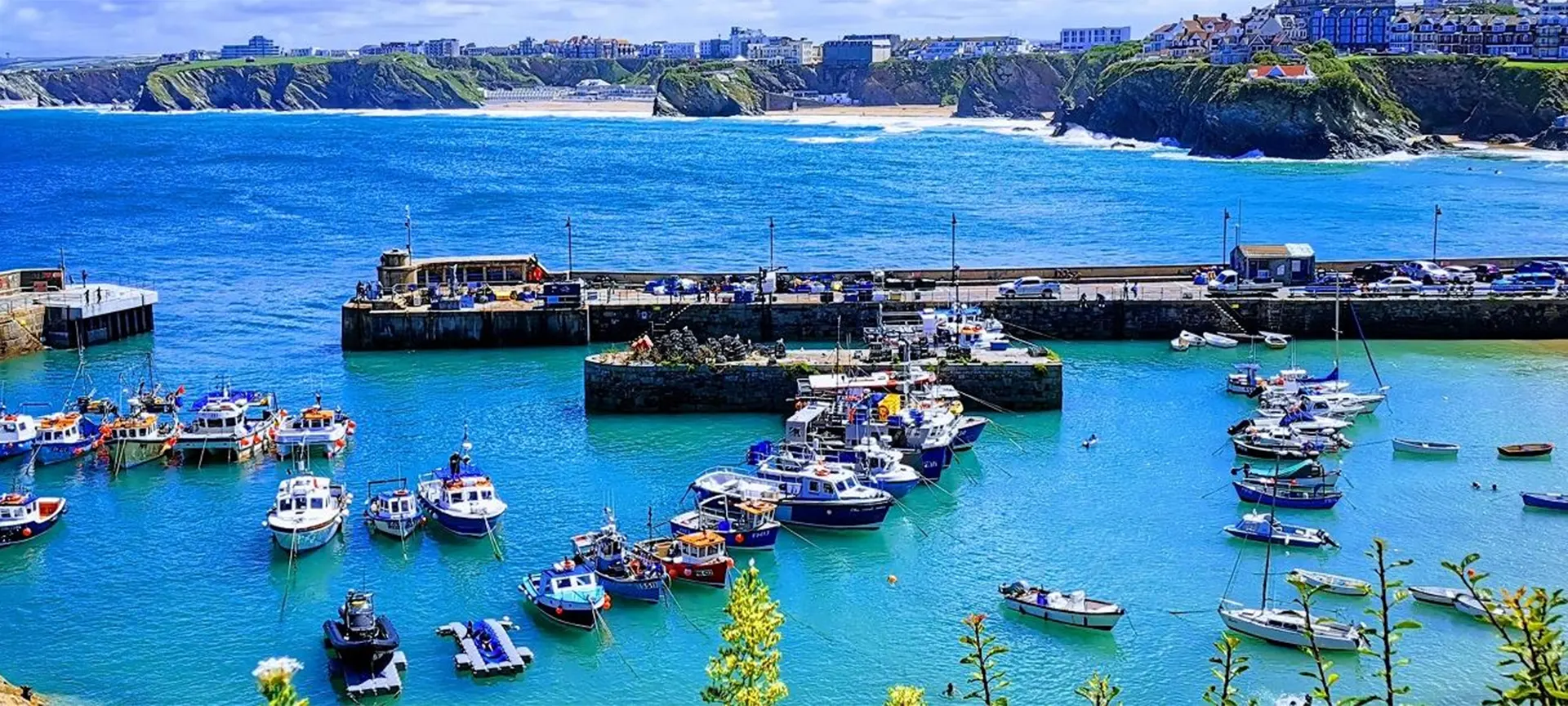 Fun things to see and do in Newquay
Newquay has plenty of indoor and outdoor attractions. These are just the tip of the iceberg!
The award-winning Blue Reef Aquarium in Newquay brings the ocean into focus with 40 huge tanks of tropical corals, anemones and pretty fish as well as turtles, stingrays, sharks and more. The walk-through tunnel is pretty cool too. Fortunately you're unlikely to encounter any of these awesome creatures on Newquay beaches, so spend a happy few hours in the Blue Reef Aquarium on Town Beach.
Located one mile from the harbour, the 13-acre Newquay Zoo has been engaging generations of visitors since 1969. It has plenty to offer as well as over 1000 exotic animals. Follow the Dragon Maze, explore the Tarzan Trail, walk in the free-flying aviary, visit the Adventure Park and attend one of the informative talks.
Enjoy a family walk along the tidal Gannel Estuary from Newquay to Crantock. Stop for refreshments at the Fern Pit Cafe on the south bank. It's accessible at low tide across a wooden footbridge. The river is ideal for paddling, swimming, kayaking and paddleboarding in the calm waters. Keep you eyes open for many wild flowers, newts, gulls, goldfinches, linnets, dunnocks and swallows! At high tide a ferry takes you across the estuary in summer.
Plan a day at the Cornwall Aviation Heritage Centre next to the airport on the former RAF St Mawgan base. There's a full range of historic military aircraft and WW2 bombers to admire in the huge hangar. Sit in the cockpit, enjoy a Hawker Hunter experience flying high above the Cornish countryside in a thrilling simulator ride. Open Sundays through Thursdays only, 10am to 4pm.
Days out from Newquay…
If you fancy exploring more of the southwest tip of England, you'll find plenty of award-winning attractions just a short drive from Newquay.
Located 28 miles away in Helston, Flambards theme park is a great day out for all the family. It has over 20 super-thrilling rides (think SkyRaker, Sky-Force and Colorado log flume) plus indoor themed attractions for rainy days. Wander through the cobbled street of the Victorian Village peeking in the windows. Next up, feel the earth shake during the recreated bombing in the "Britain in the Blitz" attraction.
Even if you've visited before, the Eden Project continues to re-invent itself around the main attraction of the massive biomes. Their recreated tropical and Mediterranean climates showcase many exotic plants, fruits and food including bananas and pineapples. Reinforcing its strong environmental message, Eden offers £3 discount on admission if you travel by bus from Newquay!
All aboard! You'll find lots more than just a fleet of miniature steam engines when you visit the 35-acre Lappa Valley Steam Railway. Located in St Newlyn East, it's six miles from Newquay. Paddle boats, canoes, steam train rides, woodland walks, crazy golf and a multi-purpose Engine Shed soft play area (with cafe for refueling!) are just some of the attractions in this micro-world of steam trains.
Head to the charming coastal village of St Agnes, 14 miles down the coast, and explore this former hub of copper, tin and arsenic mining. The St Agnes Heritage Coast is worth exploring for its mining heritage, solitary engine houses and protected flora and fauna. Hike through heather and gorse to St Agnes Beacon for stunning sea views or head to the Parish Museum to check out local history and curiosities. The village has recently become a foodie hub for gourmands, so drop in for a meal at Taste, the Tap House or Schooners.
Once nicknamed Pad-stein for its connections with celebrity chef Rick Stein and his family, Padstow is a delightful harbour village. The quaint narrow streets are lined with alluring studios, galleries, cafes and restaurants. Head to the harbour and watch kids crabbing on the harbour wall or take a boat trip out along the scenic coast. It's still a great place to enjoy a top-notch meal at Rick Stein's Cafe or the famous Seafood Restaurant that more than lives up to its reputation.
Best kept secrets in Newquay
You can't beat local knowledge if you want to discover a few hidden gems around Newquay. Keep these well-kept secrets to yourself, mind…
Starting in Killacourt overlooking Towan Beach, the Newquay Discovery Trail around the town is marked by 14 Cornish slate disks, each one metre in diameter. Pick up a map from the Tourist Information Centre and follow one of two routes to unlock facts about Newquay's history and heritage. The yellow "Hetty" route includes the harbour, house on the island, Huer's Hut (lookout for pilchard shoals), Headland Hotel and Fistral Beach. The pink "Ada" route covers the Gannel Estuary, Trenance Leisure Park and Gardens, Newquay Zoo and the Tennis Centre. Who knew there was so much fascinating history in Newquay!
Cornwall is known for its fantastic gardens but one of the most recent (1989) is the Japanese Garden and Bonsai Nursery at St Mawgan. Open from March to October, it's a haven of natural beauty with serene ponds, Japanese bridges, shady trees and peaceful meditation gardens. Strolls along paths lined with showy azaleas, acers and maples.
Head for a yummy ice cream from the Pink Flamingo van that hangs out on Esplanade Road on the Pentire Headland. It's surprising how good it tastes as you stroll along enjoy stunning coastal scenery and gentle sea breezes.
Eating and drinking
There's no shortage of choice when it comes to food and drink in Newquay. East Street is lined with pubs, take-aways, cafes, delis and more upscale restaurants offering fresh fish and Cornish ales.
Best pub grub & casual dining
If you're renting a self-catering cottage or contemporary beach apartment in Newquay you might want to take a night off from cooking and enjoy a pint of Cornish ale or cider with some local pub grub or a take-away…
Old Albion Inn
Head out to Crantock and visit the traditional thatched pub in the heart of the village. It's been serving pints to thirsty locals for over 400 years. Check out the bluestone fireplace in the lounge. It hides a smugglers hole (now blocked) from the days of Cornish racketeering and rum-running. The kitchen serves restaurant quality food at modest prices and the bar handles a range of Cornish real ales.
Address: Langurroc Road, Crantock, Newquay, TR8 5RB
Open: Monday 11:00 until 19:00, Tuesday to Sunday 11:00 until 23:00
Call 01637 830243 to book a table at Old Albion Inn
Gusto Deli Bar
If you're missing the falafels and flatbreads from a Mediterranean vacation, you can get your fix at the scrumptious Gusto Deli Bar on Beach Parade. Ideal for lunch and dinner at the beach, it's one of the top listed restaurants in Newquay according to TripAdvisor (#5 of 240 restaurants and #2 for Quick Bites). They offer healthy grills and Med-inspired cuisine including vegetarian and vegan options. Opt for one of the popular wraps, hot boxes (pulled pork, duck, roast chicken etc) and wonderful salads. Pssssst! They do a great Sunday lunch take-away too!
Address: 4 Beach Parade, Newquay, TR7 1ET
Open: Thursday to Saturday 11:30 until 15:00, Sunday 11:30 until 16:00
Malcolm Barnecutt Bakery
Pick up an authentic Cornish Pasty from Malcolm Barnecutt on Henver Road in Newquay. Trust me, they are the best "oggies" in Cornwall – moist, packed with steak chunks and wrapped in crisp buttery pastry. They also make delicious saffron buns, cakes, fresh bread and coffee, but the pasties are outstanding. There's always a queue at lunchtime, so be patient!
Address: 22 Henver Road, Newquay, TR7 3WB
Open: Monday to Saturday 07:30 until 15:30, Sunday 10:00 until 15:00
Rick Stein Fistral
The fresh sea air is likely to work up an appetite, so head to Rick Stein Fistral for arguably the best chef-cooked fish and chips outside Padstow. This laid-back chippie and take-away overlooks stunning views of Fistral Beach as you tuck into crispy light battered fish, melt-in-the-mouth chips and zesty homemade tartare sauce. Alternatively, pour Goan curry sauce over your meal for a new take on an old favourite.
Address: Fistral Beach Complex, Headland Road, Newquay, TR7 1HY
Open: Dine in: Monday to Sunday 12:00 until 20:30, Takeaway: Monday to Sunday 12:00 until 21:00
Recommended restaurants in Newquay
For more formal dining, Newquay has some outstanding restaurants, many with coastal and sea views.
The Fish House, Fistral
Where do celeb chefs go to dine when visiting Newquay? We have it on good authority that Gordon Ramsey, the Hairy Bikers and other top chefs are regulars at The Fish House overlooking Fistral Beach. Run by noteworthy chef, Paul Harwood and his family, the menu is packed with delicious dishes featuring freshly caught fish and shellfish. Try the Roasted Hotshell Seafood with Focaccia, Seafood Risotto or the smooth and spicy Sri Lankan Prawn Curry with Dahl and Poppadoms. Open for lunch (noon to 3:30pm), and then for dinner from 6:30pm, this is the place for gourmet cuisine with million dollar views.
Address: 5, International Surfing Centre, Headland Road, Newquay TR7 1EW
Open: Monday to Sunday 12:00 until 23:00
Book a table at The Fish House Fistral