October in Devon suggest fallen leaves, Halloween events and keeping schoolkids occupied during half-term week. We make it easy for you by providing our pick of top 10 things to do in Devon in October.
Outdoors events include Tavistock Goose Fair, Dartmouth Food Festivals, Cockington Apple and Pumpkin Festival and the Big Sheep attractions. Spend showery days indoors at Dingles Fairground Museum, Arlington Court Carriage Museum, Powderham Castle and the Two Moors Festival.
We haven't forgotten it's Halloween with a ghost train, fancy costumes and a round-up of spook-tacular things to do all over Devon. Which ones will you enjoy most?
Fang-tastic Halloween fun at the Big Sheep
The Big Sheep attraction just outside Bideford combines a fun farm environment with loads of family-friendly things to do in October. They also host excellent gigs, concerts and events, including a Spook-tacular Halloween event during the October half-term week.
Turn up in fancy dress for the chance of a prize and try your hand at pumpkin carving to take home your own masterpiece. Kids get the chance for some crafty projects including making a skeleton or taking a scary trip on the Ghost Train and Arachnophobia Ride. All this on top of the usual crazy activities such as Sheep Racing, petting farm, tractor rides, giant slides, fun rides and the indoor Ewetopia play area.
Tasty treats at Powderham Food Festival
Scheduled for the first weekend in October, the Powderham Food Festival takes place in the grounds of Powderham Castle near Exeter. It's a great place to browse booths and stalls sampling fine Devon fare. There are pickles, jams, dips, cured meats, cheeses, local wines and who-knows-what else from this region which is known for its tasty epicurean offerings.
Watch local chefs cooking up a storm using fresh fish, meat and local produce. Past events included innovative demonstrations such as a flaming wheelbarrow BBQ, fire pits and tandoori ovens. The grounds are superb for an autumnal stroll or take a tour of the beautiful 600-year-old Powderham Castle as one of the unique things to do in Devon this month.
Rides galore at Tavistock Goose Fair
Even older than Powderham Castle, Tavistock's Goose Fair has been an attraction for locals for over 800 years! Held on the second Wednesday of October, the country fair takes over the streets of this historic market town. There are fair rides in Bedford Square, livestock in pens, food trucks and stalls selling all manner of local produce.
It's changed a bit from the original "Goosey" Fair when families would pick a young goose to take home and fatten up ready for Christmas but it's still a great day out for all. There's also the 700-year-old St Eustachius Church to explore, a flourishing market hall and fabulous cream teas in the upscale Bedford Arms Hotel whenever you visit!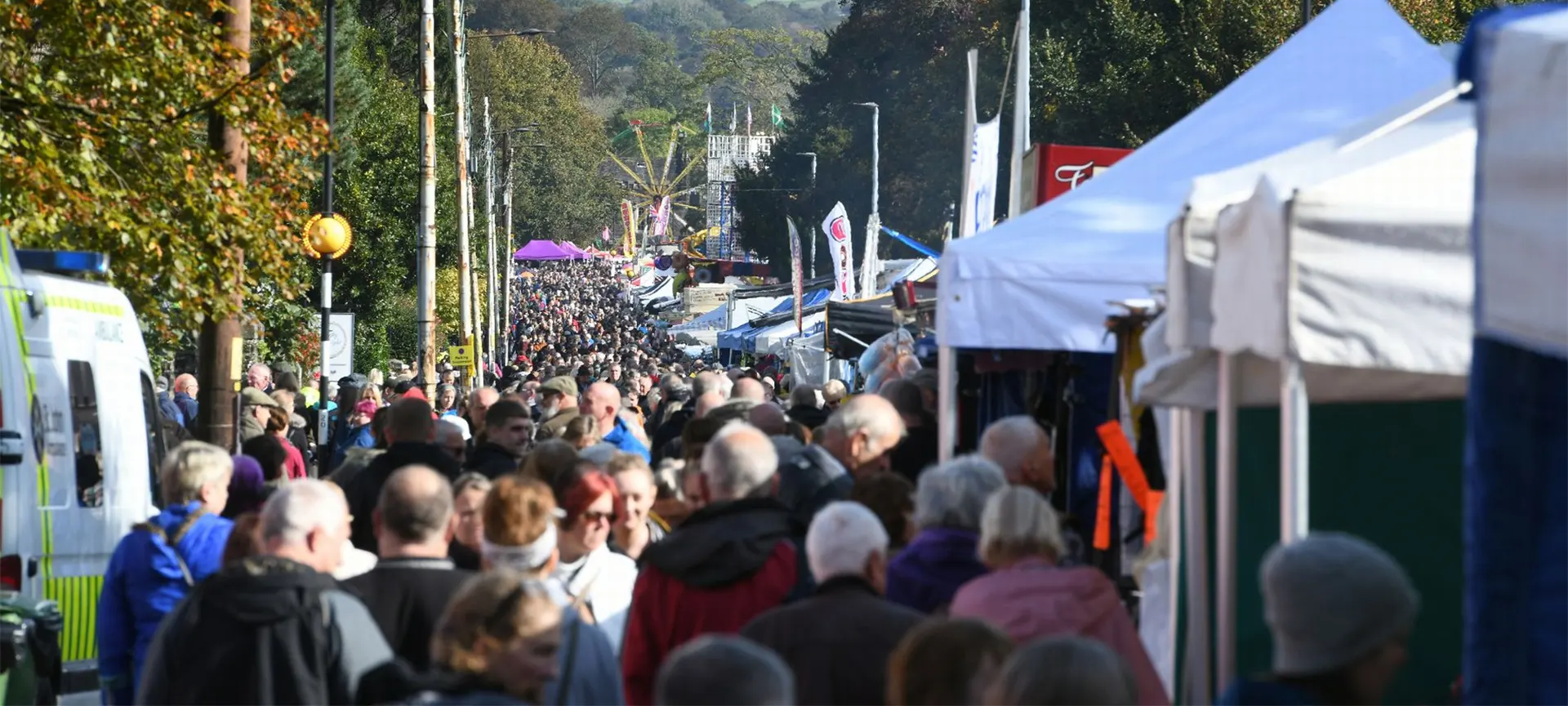 Tune up for the Two Moors Festival
Devon is unique in that it has two national parks within its boundaries: Dartmoor and Exmoor. It's well worth celebrating through music, and that's what the Two Moors Festival is all about. Starting the first Tuesday in October, it starts on Dartmoor for five days and then continues with concerts around villages in Exmoor for four more days. Events are hosted in arts centres, community halls, churches, a tithe barn and even a cathedral.
Check out the full details on the Two Moors Festival website and book tickets for some amazing performances, talks and workshops at this world-famous classical music event.
All the fun of the fair at Dingles Fairground Museum
Dingles Fairground Museum near Lifton is a great undercover attraction with vintage nostalgia for the oldies and fun rides for youngsters. It's a working museum that's open daily during the summer and during the October half term week with some Halloween specials to add to the appeal. The Ghost Train is particularly seasonal as you travel through the dark, nerves a-fray, screaming at everything.
Press pedal to metal as you ride the dodgems or hop on a traditional horse on the Victorian merry-go-round. Young visitors get their own Caterpillar and Toy Town rides and there's a shop to pick up snacks and souvenirs.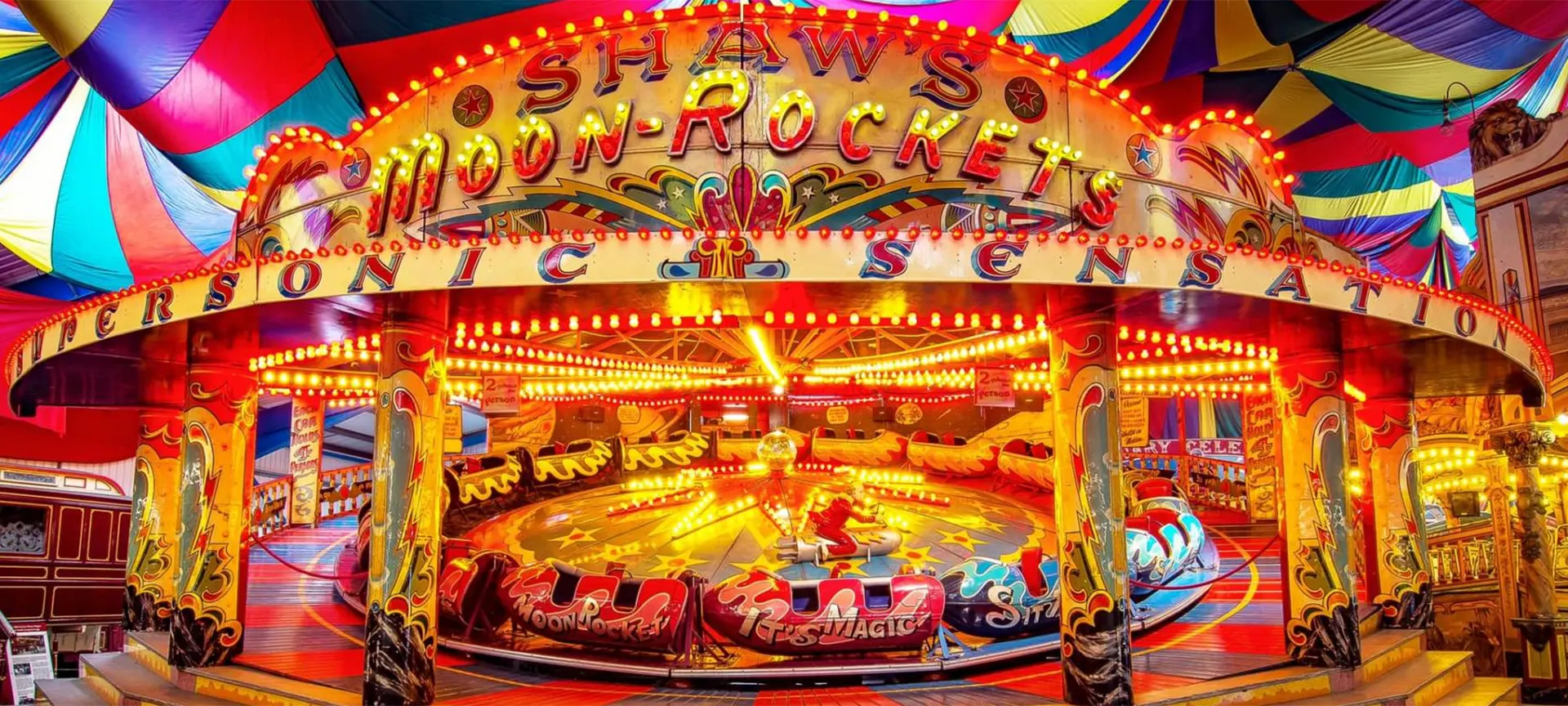 Visit Cockington Apple and Pumpkin Festival
Cockington Country Park is a great place to visit in October when the trees are burnished with autumn gold. The village is well spread out for a ramble through the water meadows with the last floral colour in the cottage gardens. Visit during the Apple and Pumpkin Festival, the last week in October, and you get some additional demonstrations and attractions.
The craft workshops are in full production for their busiest season with handmade jewellery, pottery, leather goods and local artworks. It's never too early to start your Christmas shopping! Watch artisans and glassblowers creating wonderful pieces of coloured glass that make amazing gifts. There are plenty of tea rooms offering warming drinks and snacks but my recommendation is the thatched pub, The Drum, designed by Edward Lutyens back in 1936. Enjoy a hearty pub lunch in front of the blazing fire. Now that's the best way to enjoy October in Devon!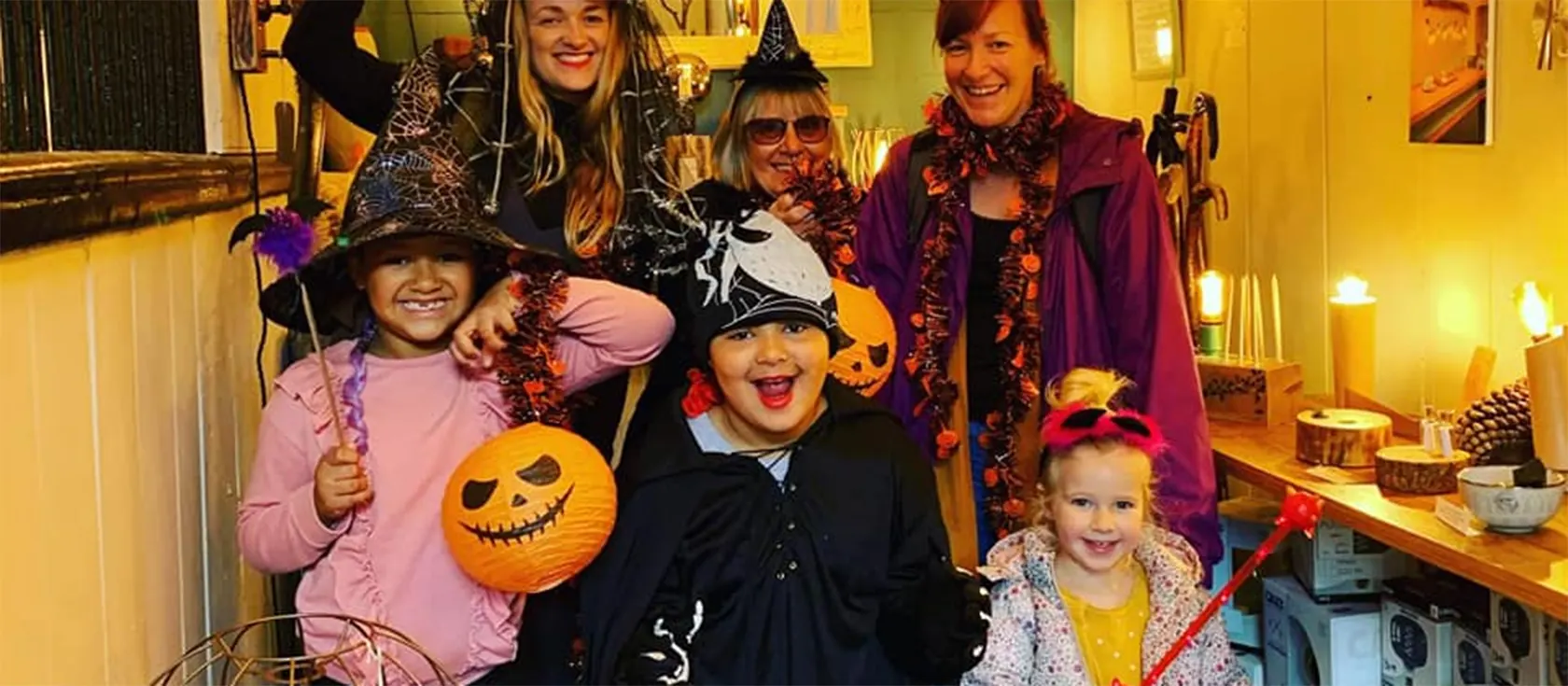 Dartmouth Food Festival cooks up a storm!
Described in The Telegraph as a "heady mix of celebrity chefs, parties, food markets, tasting shacks and demonstrations" the Dartmouth Food Festival is a great reason to visit Devon in October. It takes place on the third weekend, from Friday through Sunday. They keep you fully entertained with foodie workshops, seminars, tastings, competitions, demonstrations and over 120 exhibitors showcasing Devon's farm produce, seafood, and drinks.
It's free to wander and watch, and the waterfront setting of this historic town is unparalleled.
Experience country life at Bampton Charter Fair
If you're staying near Tiverton, Bampton Charter Fair is a great way to immerse yourself in Devon life, culture and heritage for a day. Held on the last Thursday in October, this country gathering starts with a procession through the village. It pre-dates the charter of 1258 and was the largest sheep fair in the Southwest! It takes a slightly different form today.
Riverside Hall and the local streets are lined with market stalls. There's a Craft Fair in the church and a Food Court and stage set up on Newtown Square. Live music adds to the relaxed ambience until late. Kids are entertained with street performers, a magician, bubble fairy, etc and the Exmoor ponies are on show. The fun fair is on Station Road car park, and don't forget to buy tickets for the Chicken Auction, one of the most popular things to do at this Devon event!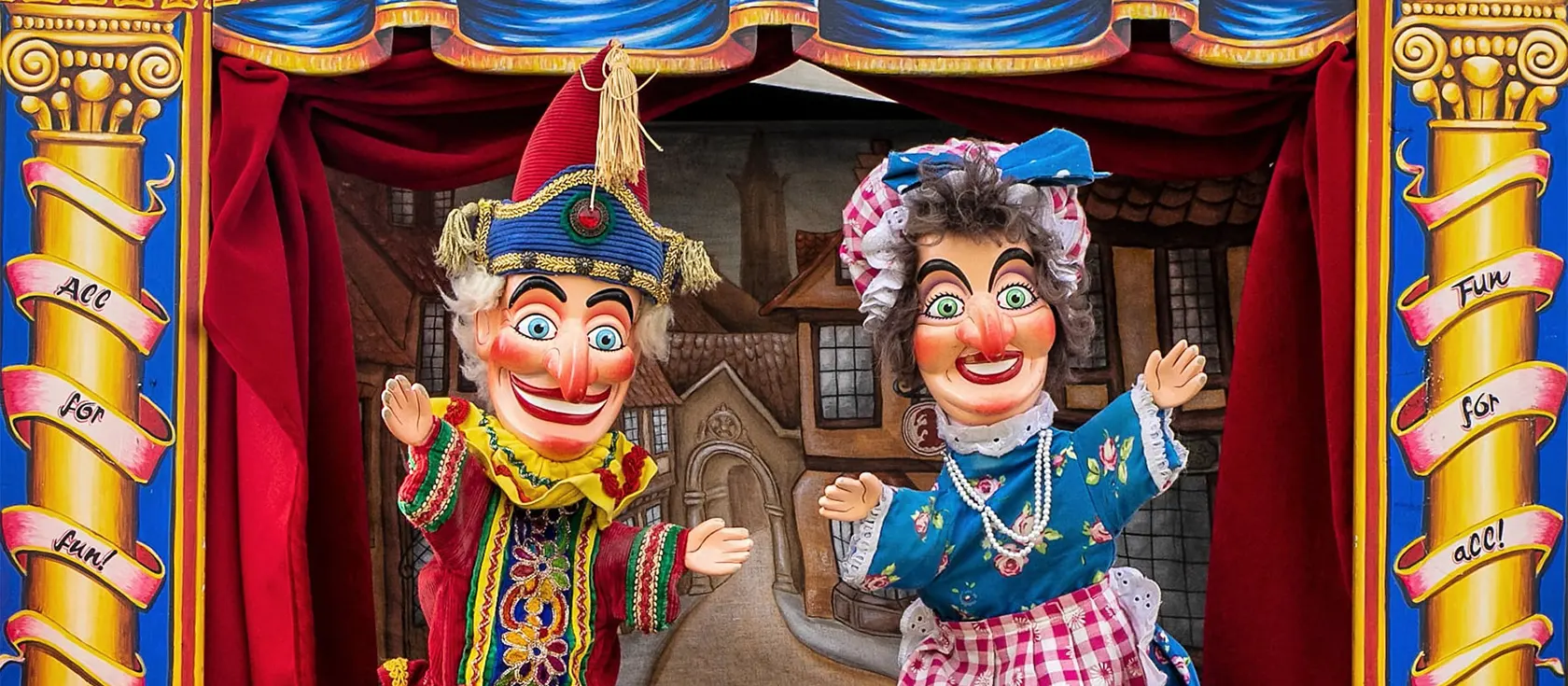 Enjoy carriages and country walks at Arlington Court
Arlington Court is a fabulous National Trust estate in North Devon with organised events in every season including autumn, half-term and Halloween. If you fancy a crisp walk scrunching through fallen leaves, Arlington Court has over 20 miles of trails and footpaths through meadows and woodland. The gardens will be showing their autumn colour and if there's a shower, take shelter in the Carriage Museum which also does harnessing demonstrations and carriage rides.
Join in Halloween horrors in Devon
We've run out of space, but here's a taster of some of the things you can expect to find in Devon in October celebrating Halloween, aka All Hallows Eve. The ancient county of Devon has plenty of ghostly goings-on.
Check out the Halloween Boat Party sailing from Plymouth Barbican (fancy dress disco on The Sound) and the Zombie Laser at Skirmish Paintball Devon. For youngsters, the Babbacombe Model Village usually has some not-so-scary events such as an Evening of Mini Horrors.
There's a Halloween Quest at Pendennis Castle in Falmouth based on Cressida Cowell's "Wizards of Once" novels. Hunt for the ingredients for a spell to get rid of the witch. Falmouth has its own "Monsters of the Deep" exhibit while Paradise Park usually hosts a Pumpkin Trail and creepy crawly encounters.