With two bank holidays and pleasantly warmer weather, Devon in May is bursting with activities and festivals. Sunny days are perfect for spending time on uncrowded beaches or exploring the coastal path and Tarka Trail, but why not break the mould and do something completely different?
From colourful hot air balloons to pirates and seaweed, Devon festivals in May showcase amazing activities, live music, quality food and local wines. How about a steam train ride, a day at the zoo meeting the new arrivals, or a helicopter ride to Lundy to spot puffins? If all that's not enough, have a bet on a woolly runner at the Big Sheep Races. It's Devon at its best!
1
Pirates Weekend in Plymouth
Let's start with some swashbuckling fun for all ages with the Pirates Weekend in Plymouth. It takes place over the weekend in early May and includes lots of opportunities for dressing up and watching re-enactments on the waterfront around the historic Barbican. Be prepared for real cannon fire – it's LOUD! Don your eye-patch, bandana and a parrot on your shoulder and you'll fit right in! While you're there, download the Hoe Trail from the free Plymouth Trails app. It takes you on a journey through Plymouth's maritime history, from Sutton Harbour to the Art Deco Lido and remains of Plymouth Castle (who knew there even was a mediaeval castle in Plymouth?). The two mile walk takes 90 minutes, but there are some "cheat" shortcuts. There's also an activity sheet to download.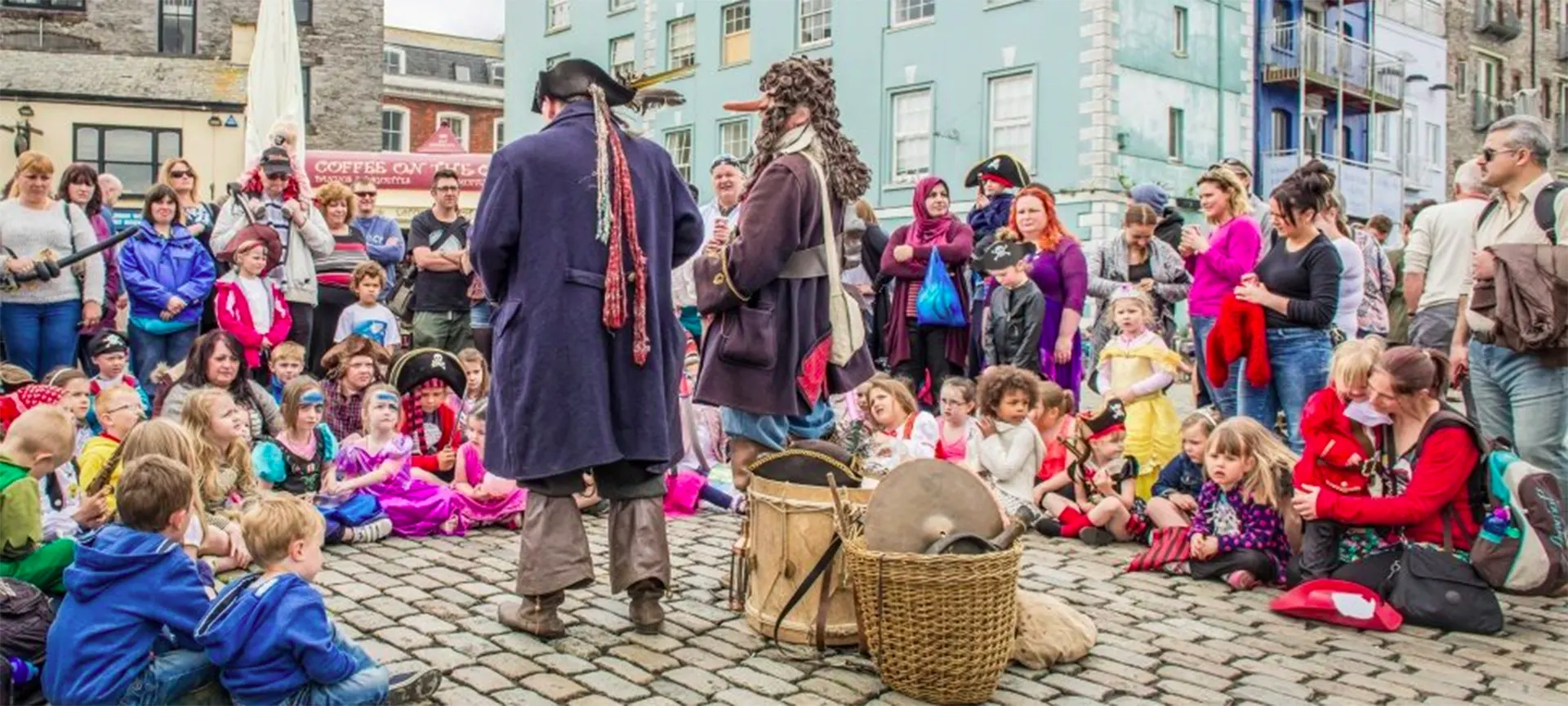 2
Ewe'll love the Big Sheep!
May in rural Devon is a pretty noisy season. You'll spot lots of growing lambs in the field, bleating, skipping and generally enjoying life. If "Ewe" fancy a close encounter with these woolly creatures, head to The Big Sheep near Bideford. You can bottle-feed lambs and watch fun shows including the Duck Trials skilfully herded by Border Collies. The ever-popular Sheep Racing is always a hoot, especially if you have a wager on the likely winner. Will it be Woolly Jumper or Red Ram? Rams take to the stage for a fun and informative roundup of sheep from around the world and there's a live Sheep Shearing Show. Only in Devon…!
3
Steam train ride and river cruise
It's warm enough in May to enjoy a trip back in time with the Dartmouth Steam Railway and River Boat Company. This heritage steam railway runs from Paignton to Kingswear on the former GWR branch line. (It's easy to reach Kingswear from Dartmouth using the passenger ferry across the River Dart). There are five stations if you want to hop off and enjoy a riverside walk at Churston or visit Greenway, the former home of Agatha Christie. Book a combo ticket and connect with a riverboat cruise for the best views of the stunning Dart Valley. All aboard!
4
Kingsbridge Food and Music
The Spring bank Holiday Weekend at the end of May is celebrated in Kingsbridge with the Food and Music Festival. The South Hams Area of Outstanding Natural Beauty excels with its quality local produce, meats, cheese, seafood and wine. It's all proudly showcased and enjoyed at this free festival that takes over the historic town streets. Food trucks, stalls, live music, headline acts and local bands introduce a touch of Glastonbury to this fab fest that promotes the best of Devon.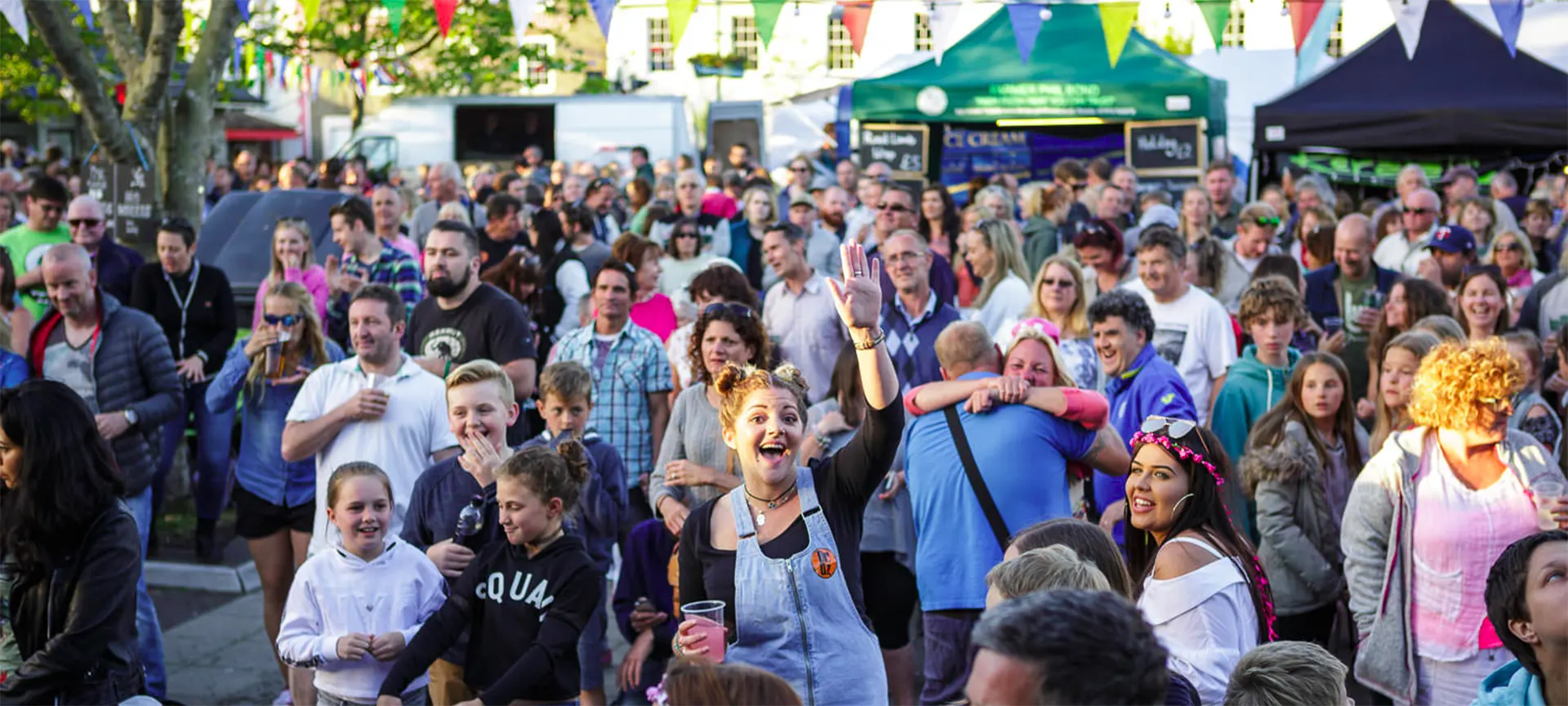 5
New arrivals at Paignton Zoo
There's no better time than spring to visit Paignton Zoo and see new hatchlings and the cute baby zebra foal. Recent arrivals include a rare Mitchell's Lorikeet, with just 50 birds left on their native Indonesian island of Lombok. Set in 80 acres of natural Devon vegetation, this award-winning charitable zoo focuses on conservation in conjunction with the wild Planet Trust. Enjoy Keeper Talks or just amble around exploring the natural exhibits and identifying some not-so-familiar species from agouti to zebra. You can help in the conservation project by adopting an animal, such as a Komodo Dragon, tiger or cheetah.
6
Bike along the Tarka Trail
May is the perfect time to rent bicycles and explore the scenic Tarka Trail. Spot shy primroses, bluebells and red campion in the lush surroundings of this natural traffic-free paradise. The trail runs for 180 miles, taking in beautiful beaches, sea cliffs and countryside, so don't expect to do it all in a day! There are several shorter loop walks and trails to download and explore such as the 3.7 mile walk around Bishop's Taunton around Codden Hill and back along the Tarka Trail and wooded River Taw Valley. Stop off for a freshly pulled pint of cider and a pub lunch at the thatched Chichester Arms which has been the hub of Bishop's Tawton life since the 15th century.
7
Clovelly celebrates seaweed!
Get ready to enjoy something completely different at the beautiful private harbour village of Clovelly in North Devon. The Seaweed Festival takes place on the last Sunday in May as a fundraiser for the North Devon Hospice. Now's your chance to learn more about the healthy and nutritional benefits of seaweed while exploring the charming stepped streets, shops and pubs in this quaint community. It's the chance to try seaweed dried in snacks, cooked in a variety of low-calorie dishes and even included in a range of beauty products. There's live music, food and street entertainment as well as informative talks, demonstrations and workshops.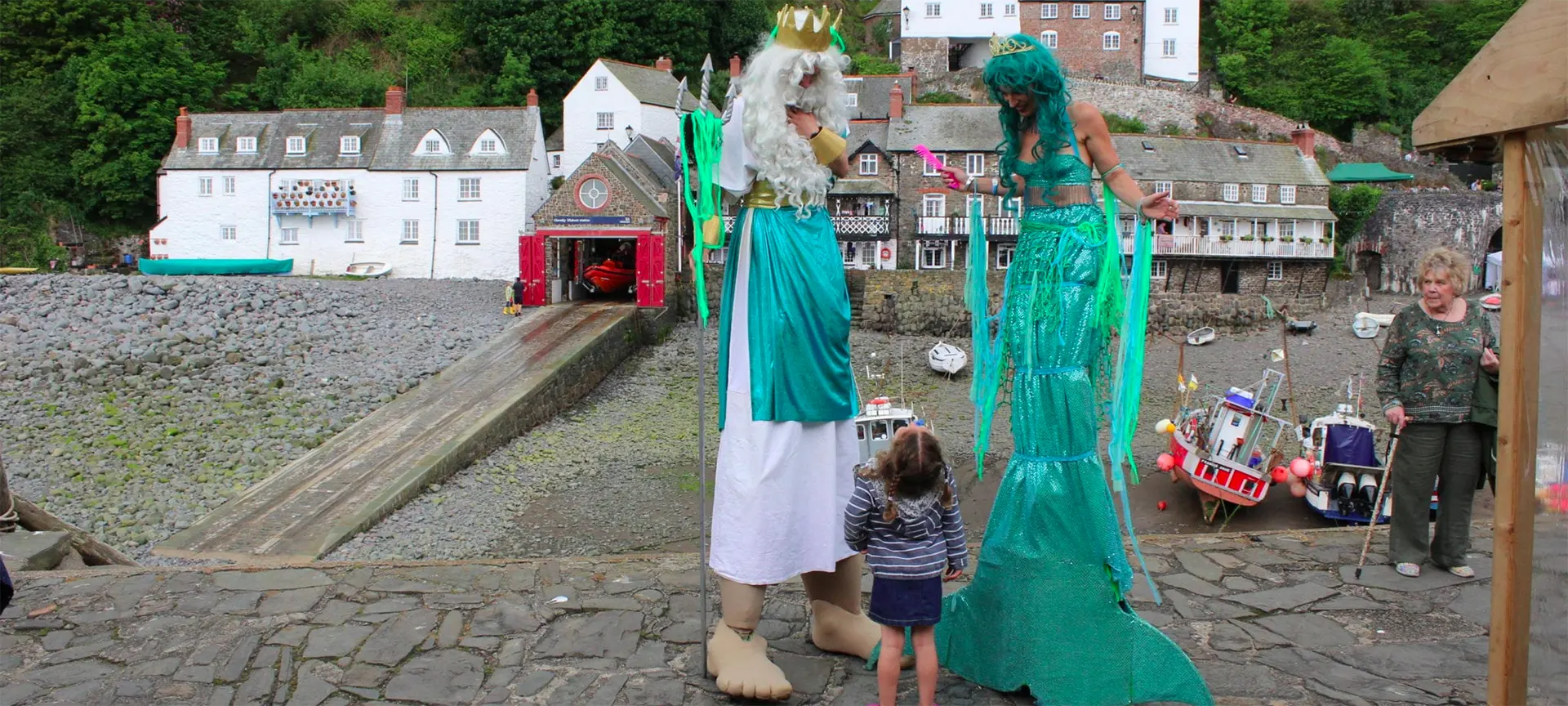 8
Spend a day on Lundy Island
Lundy Island may be within sight of land (10 nautical miles offshore) from its castaway location in the Bristol Channel, but the rough seas make it almost impossible to visit by boat in winter. It's a haven for diving, hiking, climbing and birdwatching, especially in May. As well as a carpet of wild flowers, the island is home to colonies of puffins and other seabirds. Part of the fun is actually getting there. You can book a two hour ride aboard the MS Oldenburgh supply ship that departs from Ilfracombe and Bideford. Alternatively, treat yourself to an unforgettable helicopter ride from Hartland Point to Lundy and enjoy stunning views of the coast on the 7-minute trip.
9
Rosemoor Gardens in May
RHS Rosemoor near Great Torrington always puts on a colourful display of seasonal flora but May really sees it at its best. The shady woodland garden has dogwoods, vibrant pieris (it's not called Forest Flame for nothing!), and rhododendrons in abundance. The more formal rose gardens, lake and stream garden offer bearded iris, wild geraniums and borders of annual favourites to admire, photograph and enjoy.
10
Balloons over Powderham Castle
Few things capture the imagination, and the eye, more than the sight of dozens of brightly coloured hot air balloon drifting across the sky. But that's only a part of the fun at Exeter Balloons and Tunes Festival in early May. The point of lift-off is Powderham Castle, which is a great day out at any time of year. Tour the 600-year-old castle and explore the gardens and deer park. The event includes craft stalls, foodie stalls, burgers, hot dogs, live music and a giant bar. Stay after sunset and see the Night Glow Show as 12 to 15 vibrant hot air balloons take flight like giant ornaments lighting up the dark sky. It's breathtaking!