Cornwall is the perfect antidote to Covid. Well, that's the verdict of these trusty bloggers, and they're entitled to brag. After all, they've been there, done it, and given the county a verbal high five.
Life (and traffic) suddenly adopts a much slower pace as you hit the Cornwall border from Devon, particularly if you choose to drive across the Tamar Bridge. Respect the enforced 30mph speed limit – it gives you chance to admire the parallel Royal Albert Railway Bridge and the broad Tamar River. Far below you can see centuries-old waterfront pubs in Saltash and tiny pleasure boats moored in tidy lines.
The alternative gateway to Cornwall, the winding A30 dual carriageway, is equally enchanting with its rolling scenery as you climb over Bodmin Moor. And so your Cornish adventure begins.
You don't have to go far into southeast Cornwall to go off-grid, as one of our bloggers discovers. What's lacking in 21st century convenience is more than compensated for with breathtaking sandy beaches and glorious sea views at Whitsand Bay.
Go on, treat yourself to a quick read below and you might find yourself booking a cottage in Cornwall to see it for yourself!
Rainforests and nautical adventures around St Austell
I love sinking my foot into the powdery sand of a Cornish beach. It's the first image that comes to mind when I think of Cornwall, and I bet I'm not alone. Sunsets, surfing and sandcastle-building are the dream.
However, during our last family holiday to Cornwall the great British weather was doing it's best to dampen the mood. We were staying in our camper van near St Austell so, with beach days mostly off the cards, we looked inland for things to do.
One of the must-visit family attractions in St Austell is The Eden Project. We have now been five times and love seeing it evolve.
It's the scale of the place that always wows me. Its biggest biome is home to the largest indoor rainforest in the world. And, if you're not into horticulture, you can have a go at the Skywire, which is England's longest and fastest zip wire.
Lesser known but equally magical are the Lost Gardens of Heligan. Despite it being a wet day when we booked to visit, my kids loved the large adventure playground, exploring the gardens, meeting farm animals and walking across the Burma rope bridge in the subtropical valley.
As the end of our holiday approached there was a break in the clouds. It was the perfect opportunity to visit somewhere new to us: historic Charlestown. This atmospheric port comes complete with tall ships and a fascinating shipwreck museum with artefacts from more than 150 doomed vessels.
If you are looking for the perfect base for your holiday in Cornwall then St Austell puts you close to the south coast beaches and major sights. This was our second stay in this area and we'll definitely be back.
☀️ Book a holiday cottage in St Austell, and look forward to enjoying everything Cornwall has to offer.
Recommended by Claire Hall from Tinbox Traveller
On the trail of pirates in Charlestown
Cornwall is always a good idea, but after many years of visiting the same old haunts, the Hubbie and I were itching to find something a bit different to do. After a bit of research we decided that visiting Charlestown on the south coast near St. Austell was one of the most unusual things to do in Cornwall.
We loved exploring this tiny port village, which is hidden away on some of the most alluring coastline in the county. First up we headed for the historic harbour, which was once used for trading the famous Cornish china clay. Today, we found it had been turned into a safe haven for a couple of 'pirate ships', which are often used in filming for the big screen. The village has most recently been used as a location for the much-loved Poldark series, and we posed for photos in some of the spots we recognised.
There's a Shipwreck Centre here too, charting the unfortunate demise of many a seafaring vessel, with a fun collection of exhibits reclaimed from the depths. After a hearty buccaneering insight, we headed for a walk along the cliffs, for views back over Charlestown and the surrounding countryside.
By now our appetites were craving attention so we came back into the village in search of sustenance. Charlestown is famed for its fresh seafood, so we tucked into some local Cornish favourites in The Boathouse, toasting our day as the sun went down.
If you're heading to southern Cornwall, you should definitely consider staying here, or doing a day visit, as there's nowhere else quite like it!
☀️ Book a holiday cottage in Charlestown, and look forward to enjoying everything Cornwall has to offer.
Recommended by Heather Cole from Conversant Traveller
The wonder of St Ives
Ah beautiful St Ives, one of the most photographed harbours in the UK, and certainly one of the most visited too!
I've been to St Ives more times than I can remember. It was the first holiday my parents took me on when I was just six months old and it's a place we've returned to time and time again as a family over the past 28 years.
We love it so much we are even going again next week, and I'm more excited about being back in St Ives than I would be if I was going abroad! That's how much I love it; it's just got that special place in my heart and, for me, nowhere comes close.
The cobbled streets, pasty shops and fishing boats, the historic inns sandwiched between modern bars and hotels with jaw dropping sea views. The way the tide rolls in and out each day, making the harbour look completely different within the space of a few hours. The boat trips that leave every hour with promises of spotting seals, dolphins and even whales if you're lucky.
The charm of the British seaside with its arcade, ice cream parlours and plenty of shops selling everything from postcards and artwork to fishing nets and bucket and spades. Cornwall is perhaps the most beautiful part of England, and St Ives has got it all.
Visiting as a family? Kids will be in their element on the beach. Coming with a group of friends? You're in for a treat with spa hotels and gourmet restaurants to boot. Whatever your reason for visiting, and whoever is joining you on your trip, there's no better place for a UK staycation than the glorious Cornish St Ives. Now, where's my pasty?
☀️ Book a holiday cottage in St Ives, and look forward to enjoying everything Cornwall has to offer.
Recommended by Jessica Buck from Journeys with Jessica
Learning to surf in Cornwall
Cornwall is one of the most popular places for a summer holiday in the UK. Our favourite time to visit, however, is in October. The weather is not always predictable (when is it ever in the UK?!) but that won't stop you having fun!
And, as we discovered on our most recent trip to Cornwall, October is a great time to learn to surf.
There are lots of places to learn to surf in Cornwall. Some of the best places to try, particularly if you're a beginner, include Sennen Cove. It enjoys consistent surf and a beautiful beach. Other good spots include Harlyn Surf School in Padstow and Fistral Beach Surf School in Newquay.
We chose Holywell Bay for the kids' surf lesson because it got great reviews and was near to where we were staying. Holywell Bay Surf School turned out to be a great choice thanks to knowledgeable and patient instructors, a small class size and warm sea waters.
OK, so it's not the Caribbean, but October is often when the sea is at its warmest having been heated for months by the summer sun. You will, however, still need a wetsuit!
Our kids only took one lesson but were both standing up by the end of class and are determined to try again. Of the many things to do in Cornwall with kids, learning to surf is definitely one of the best.
☀️ Book a holiday cottage in Newquay, and look forward to enjoying everything Cornwall has to offer.
Recommended by Katja Gaskell from Globetotting
St. Agnes, an under-the-radar town in Cornwall you have to visit!
I had the chance to visit St. Agnes as part of my Cornwall road trip with a group of friends and it was a pleasant surprise. St. Agnes is a very small town in Cornwall with less than 8,000 inhabitants. Many tourists don't make this part of their Cornwall trip and I wanted to share what a great and under-the-radar place it really is!
The main street off Churchtown is the quaintest street of all, full of bakeries, flower shops, and local shops. Make sure to stop by St. Agnes Bakery for a Cornish pasty and Trunk Deli for some beautiful flowers.
Next on your list should be strolling the quaint streets and popping into neighbourhoods to see the adorable English homes. There is also a very unique street called Stippy Stappy where you can see the cottages stacked up the hill one after another.
The beach is probably the quietest and most beautiful one you will find in the area. You should also hike up the path before the beach for panoramic cliff views. Then after the walk, head over to Driftwood Spars for lunch and handcrafted locally brewed beer.
All in all, St. Agnes was a pretty village that is undiscovered and not over-run by tourists. You should definitely add it to your itinerary!
☀️ Book a holiday cottage in St. Agnes, and look forward to enjoying everything Cornwall has to offer.
Recommended by Jackie Rezk from Jou Jou Travels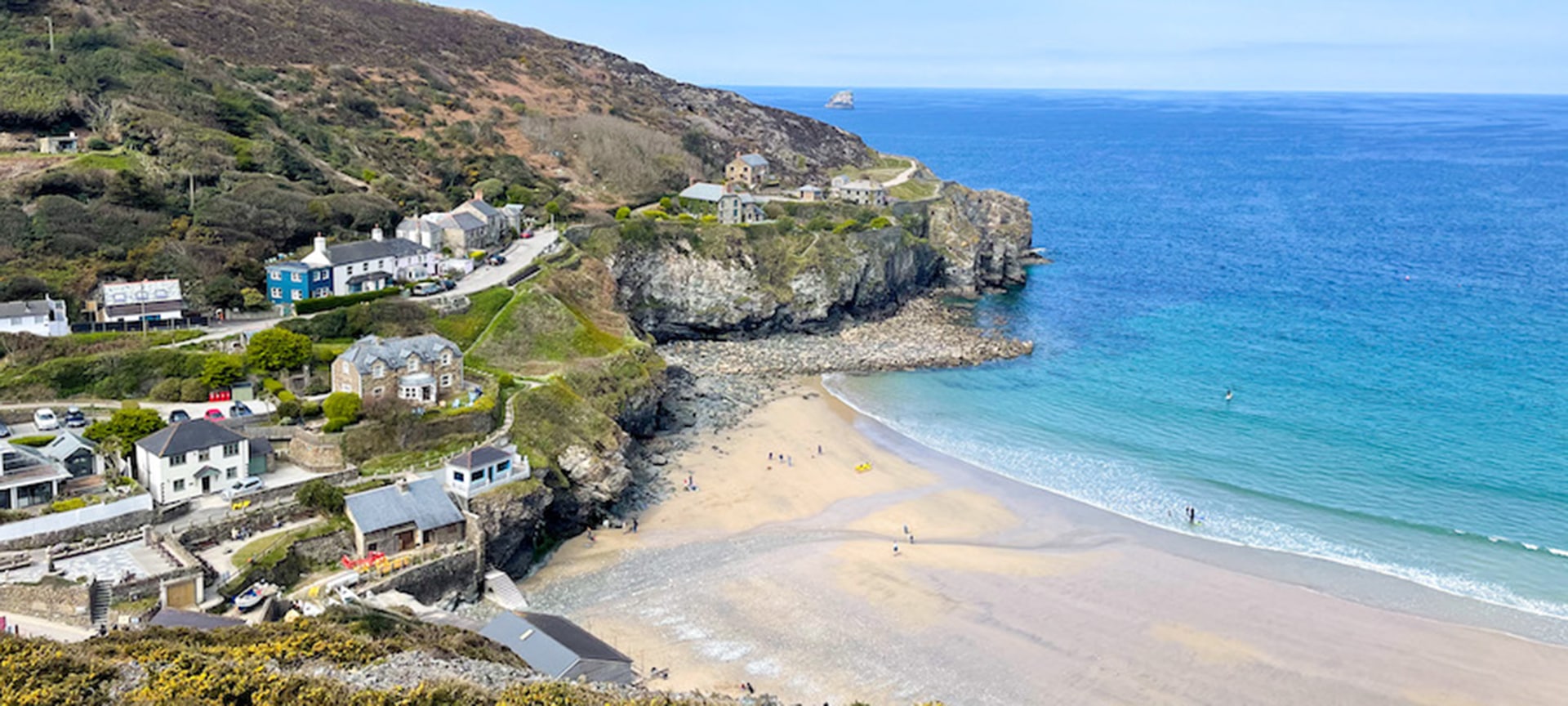 History and coastal scenery combine at gorgeous Tintagel
tintagel is one of the most popular tourist locations in Cornwall, located on the north coast near the Camel Estuary. We visited tintagel during our ten-day road trip around South UK and this was our last stop before we hit the beaches of North Devon. tintagel was at the top of my list in my Cornwall road trip itinerary and it proved right during our visit.
One of the best coastal walks and scenery Cornwall has to offer is here with turquoise water and stunning landscapes. tintagel has a spectacular bridge that gives the feeling of a Cornish skywalk. It gives a great view of the surroundings including tintagel Castle and Merlin's Cave.
tintagel Castle is managed by British Heritage, and you need to book in advance to get in. You also need a weather god to bless you as well, as a small boat ride will take you to the castle and it unfortunately can't operate in bad weather.
King Arthur was supposedly born here, and you can visit the remains of this once great place and see how it looks today. Another attraction here in tintagel is the Chapel of St Michael, located in an old cemetery just beside the priory.
We really enjoyed strolling around village and exploring the countryside. One of the best coastal walks and scenery Cornwall has to offer is here with turquoise water and stunning landscapes. The coastline is rugged, and the villages are small and quaint providing a nice change from busy city life. It lets you enjoy the beautiful scenery and take long walks with family or friends.
We also enjoyed eating Cornish pasties at a local bakery and ate at one of the tintagel restaurants – tintagel has numerous restaurants for all tastes!
tintagel is a must visit during your Cornwall visit – perfect for a staycation, as it has bits of everything that Cornwall has to offer – stunning coastline, a castle, beaches and the charm of quaint fishing towns.
☀️ Book a holiday cottage in Tintagel, and look forward to enjoying everything Cornwall has to offer.
Recommended by Jumana from Planet Hopper Girl
Cornwall's wonderful scenery makes you feel like you're abroad
Cornwall is a delightful part of southwest England and is now a little more well-known thanks to the recent G7 meeting in St Ives. So, what makes Cornwall so special for me? Well, it's a combination of a few things; some geographical, some timing and some cultural.
So first up is Cornwall's geographical position. It lies in the southwest of England, the other side of Devon. Even when you enter Cornwall it's still another 80+ miles until you reach the famous Land's End.
With no motorways and often multiple caravans to contend with during the summer months you have to take your time to get there. But that's what makes it so special! It makes me feel like I've really earned it when I arrive. You can't just magically appear there – well unless you fly into Newquay airport that is – but most people don't. I actually like that you have to make a bit of effort to visit.
Timing? If the weather is nice, I find the beaches are as idyllic and as beautiful as any place on Earth. Whereas The Caribbean is mostly hot and sunny, when it's a gorgeous day in Cornwall I find it just as amazing, and if anything, all the more special as it's not so guaranteed. But you needn't worry too much as the county is the warmest in the UK, so if it's going to be nice weather anywhere it's probably going to be nice in Cornwall.
And finally, the culture. There are the friendly people I encounter, the tasty ice cream, the scrumptious Cornish pasties and the all-round quieter way of life. All of this helps lead to a complete feeling of "getting away from it all".
☀️ Book a holiday cottage around Land's End & Sennen Cove, and look forward to enjoying everything Cornwall has to offer.
Recommended by Steve Biggs from Biggsy Travels
Bude-iful beaches
Although it's only just over the border, Bude is unmistakably Cornish and one of my favourite places to visit in the region. Bude is a chilled out Atlantic-based seaside town, with an unmistakable holiday atmosphere.
One of my favourite things to do in Bude is simply to enjoy the coast. There are lots of beaches in Bude, including the famous Summerleaze Beach which also has the Bude sea pool, and Crooklets Beach, a popular surfing spot.
Bude is also a great destination for hiking. On my journey around the South West Coast Path, I hiked from Hartland Quay in Devon to Bude. This is an extreme hike – one of the toughest on the 630 mile long South West Coast Path – but the views are incredible. For an easier trek, you could walk to the beautiful surfing beach of Widemouth Bay and take the bus back to Bude.
The town is also ideally placed to see both North Devon and Cornwall. Spots like Clovelly, Crackington Haven, Boscastle and tintagel are all around half an hour's drive away.
Back in Bude town, I love Bude Castle, which now serves as the museum. It's also really nice to take a stroll down Bude Canal and dine at some of the waterfront pubs, cafes and restaurants.
☀️ Book a holiday cottage in Bude, and look forward to enjoying everything Cornwall has to offer.
Recommended by Claire Martin from Go South West England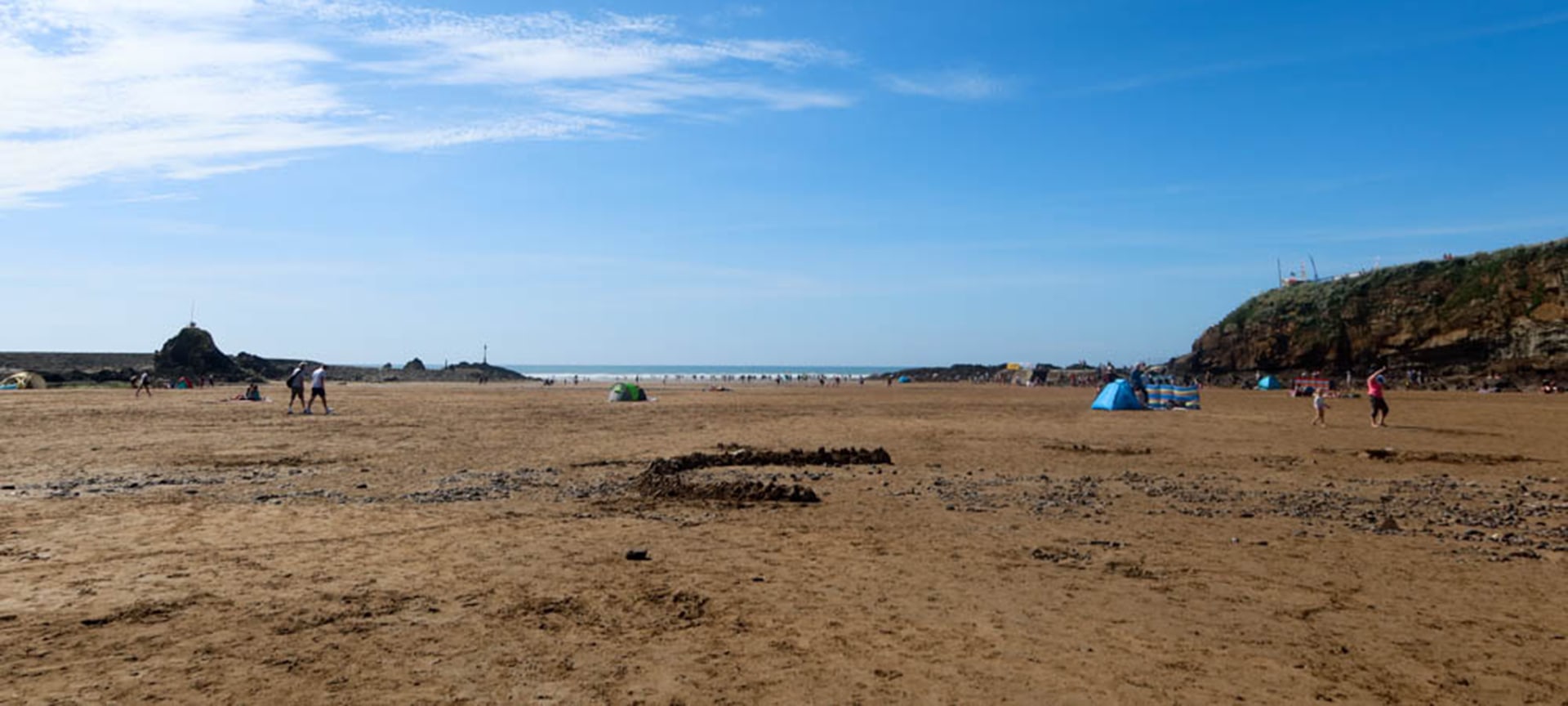 Switch off and digitally detox in Whitsand Bay
My partner arranged for a week's trip to stay at a place in Cornwall he had visited before, Whitsand Bay. Not far into southeast Cornwall, and on the coast, it sounded idyllic.
What he didn't tell me was that we were going off grid. Our accommodation was a small wooden holiday home perched on the cliffs above the stunning sandy bay. Our electricity was a combination of solar and wind generated. The cooking – and the fridge – were gas powered. There was no phone or internet signal.
After a panicky first day, I slid into a chilled vibe.
We spent our days swimming and kayaking. I tried, unsuccessfully, to bodyboard. We foraged for mussels and cooked our own version of paella on the outdoor fire.
Life slowed down as we enjoyed ambling along the three miles of unspoilt white sandy beaches, peering into rockpools as the natural world opened up to us.
Evenings were spent watching the sun go down before curling up with a good book – I devoured the Bernard Cornwell books – or just chatting about life.
Our shopping adventures took us along to the nearby villages of Kingsand and Cawsand where we bought fresh fruit, vegetables and cheeses. A cheeky pint or two at the Devonport Inn before returning to cook.
After a week of epic sunrises and sunsets, fresh sea air and the sound of waves lulling me to sleep – I left Whitsand Bay and Cornwall refreshed, revitalised and ready for anything!
We all need a haven where we can switch off from the world, Whitsand Bay is the perfect place in Cornwall to do it. Visit if you want to have peace, quiet, stunning views and especially if you would like to go off grid.
☀️ Book a holiday cottage in Whitsand Bay, and look forward to enjoying everything Cornwall has to offer.
Recommended by Larch Gauld from The Silver Nomad
Whether you're looking for beaches and watersports, speciality food and wine, pretty towns or family-friendly attractions, Cornwall has it all. Book your holiday cottage in Cornwall today, get down here and start enjoying the fun!